So. It's Spring, the weather is . . . . . wet. That means a perfect time for cleaning and clearing out!
On my random blog searching and reading I stumbled across
A Bowl Full of Lemons
And their wonderful challenge to get organised and declutter.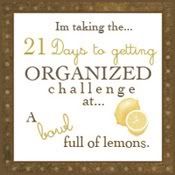 My challenge is starting Friday with the junk draw - or in my case draws in my craft room desk. Now you are ment to have Sundays off but as I work full time and have Thursday evenings occupied so Thursdays will be my days off.
Stay tuned for before and after photos! :-D
Oh and on the note of clearing out - Harry I still have that massive bag of make-up for you!
V xxx
- Posted using BlogPress from my iPad